The M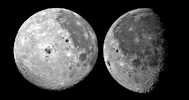 N
---
dedicated to entertaining the easily amused
(and people from Winona, MN named Danae)
article date: March 10, 2001
Twins Mathematically Eliminated From Race
Season hasn't even started yet
by B-Rent Imagodei

We're not sure exactly what formula was used, but the Minnesota Twins were officially eliminated from World Series contention as of March 1, 2001. Not only are they eliminated for the 2001 season, but also for 2002 through 2005. Normally, the Twins aren't mathematically eliminated until at least April 1 (opening day), but this year the commissioner's office and STATS, Inc. collaborated to eliminate the Twins early this year.
"We just kind of figured, why get the Twins' fans hopes up? They have absolutely no chance of going to the Series. We just figured we'd kill their hopes a little early this year," said baseball Commissioner Bud "weiser" Selig.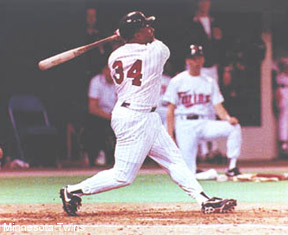 New Hall-of-Fame electee Kirby Puckett sadly agreed. "The Twins are out of it. Their best position player is either David Ortiz or Corey Koskie. Outside of the Cubs, those two guys probably wouldn't even be on another team's Opening Day roster. The sad part is, I can only see out of one eye, but if I came back as the DH, I'd be our best player. Pathetic. I'm going to have to be a Royals fan this year, just so I can go out with George Brett and get drunk in order to forget that I was a lifelong member of a team that is so horrible that the best offseason move we made was signing Tom Prince."
After getting this statement from Puckett, we decided to do a little research on Tom Prince. Prince has been a backup catcher for like 15 years and bats about .200 (if he's lucky). Now a Twin, Prince has been declared the starting catcher. "I'm not that bad a ballplayer. Sure, I'm old, I can't hit, and my catching skills are eroding quicker than that Jared guy from the Subway ads' waist, but on the Twins, I'm a starter baby," said Prince.
To this Puckett retorted, "Exactly. You suck, but yet you're our catcher. We should have just got Tim Laudner out of retirement."
Even though the Twins are mathematically eliminated from contention, they do have goals for the season. Starting pitcher Brad Radke said, "My personal goal is to not lose 20 games on this shi**y team." Asked what the team's goals were, he said, "I don't know. Not to have the worst record in the majors?"
Too bad even that goal is out of reach. "Our computer generated statistical prediction program said the Twins would be lucky just to win 20 games. They're mathematically guaranteed to be the worst team in the majors this year," said Selig.
"F**k," replied Radke.




Back to front page